Happy Meal
JANUARY - MARCH 2017
Research project that looks into the current state and issues of food insecurity amoung youths in Pittsburgh's Hill District.
Project overview found here.
Full report available upon request.
Conducted contextual inquiries on residents of the Hill District to understand current conditions and identify pain points
Designed and distributed an online survey to over 70 participants about their experience/opinions on volunteering and donating
Created contextual models (flow, sequence, and cultural) and an affinity diagram to synthesize findings from our research
Produced personas of Hill District residents to better understand the audience
Illustrated struggles and design opportunities with the use of journey maps
Analyzed and visualized our survey results
Brainstormed potential solutions using "How Might We" statements
Produced storyboards to illustrate proposed solutions
Presented findings to local Pittsburgh organization and community members
Produced formal reports that outline the project's entirety
OUR MISSION
To eliminate food insecurity by promoting self-determination amongst youths in the Hill District.
KEY INSIGHTS
1. Food insecurity is rarely an issue of just finances and accessibility. Deep internal struggles with past trauma are the main deterrents for sustainability.
2. Many Hill District residents struggling with food insecurity only address their issues with short-term solutions, lacking initiative to take advantage of programs focused on long-term outcomes offered by organizations.
3. In the long-run, community building initiatives are vital to unlocking self-determination for future generations
PROCESS
Research:
We approached two organizations in the community that currently help provide food to the Hill District: FOCUS Pittsburgh and Jubilee Soup Kitchen. From there, we were able to directly speak with members of the community who utilized these services to better understand their struggles with food insecurity. It was rather difficult to directly reach youths in the Hill District, but through the conversations of the organization leads and the participating members of FOCUS and Jubilee, we were able to indirectly understand the surrounding issues regarding food insecurity amongst youths.
Researched current conditions of Hill District through the usage of contextual inquiry and expert interviews
Used an activity "What's on your Radar?" to evaluate the interviewees in their values
Conducted an online survey to research the general population's opinions on donating and volunteering
Conducted domain research to better understand food insecurity in the U.S., as well as Pittsburgh
Identifying key stakeholders in the food insecurity sector
Analysis:
After gathering a lot of notes from interviews, the next step involved synthesizing all of our notes. The use of transcripts and interview notes allowed us to create models and diagrams to better understand the patterns that started forming. After analyzing these notes, we drew up personas and user journeys to better represent the bigger picture of this particular situation.
Created an affinity diagram of our contextual inquiries using transcript quotes
Created contextual models to break down our individual interviews, and then built up synthesized models from all of our interviews
Developed personas for our Hill District members to better understand their circumstances
Developed journey maps from our current understanding of the research results
Visioning & Communication:
Finally, with our notes analyzed, we were able to create key insights and envision potential solutions for the situation at hand. We communicated these findings to local Pittsburgh officials who were involved with the community.
Brainstormed potential solutions by creating "How Might We" statements
Storyboarded these solutions to concretely communicate the current and desired states
Presented these solutions and findings to Pittsburgh community members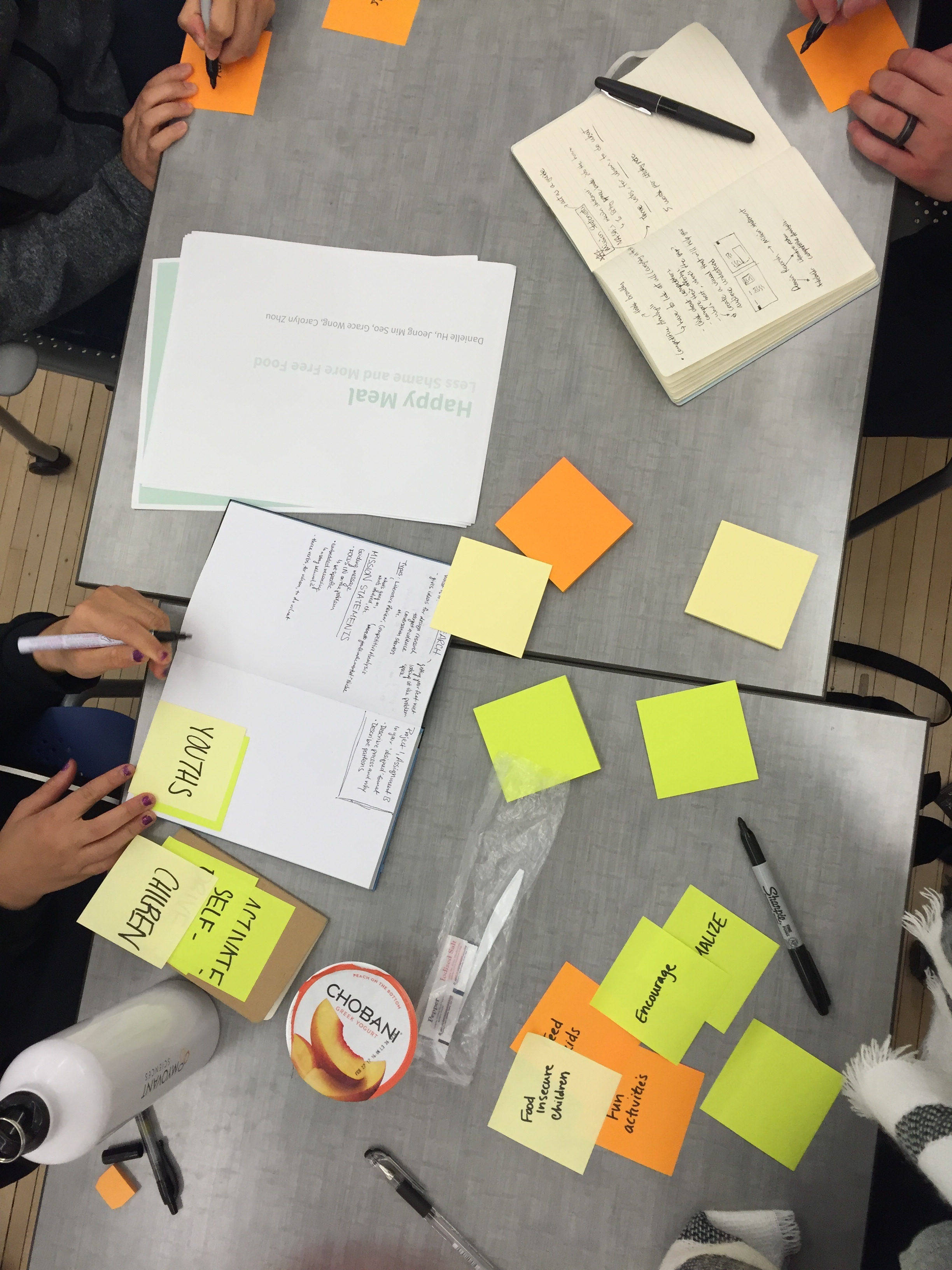 Brainstorming
Our brainstorm sessions typically involved sticky notes to organize our thoughts
Mission Statement
Our brainstorm results that led to the creation of our mission statement
Affinity Diagram
The affinity diagram we created involves quotes from our interviews
Persona: Maya
Created Maya to help represent the general population of Hill District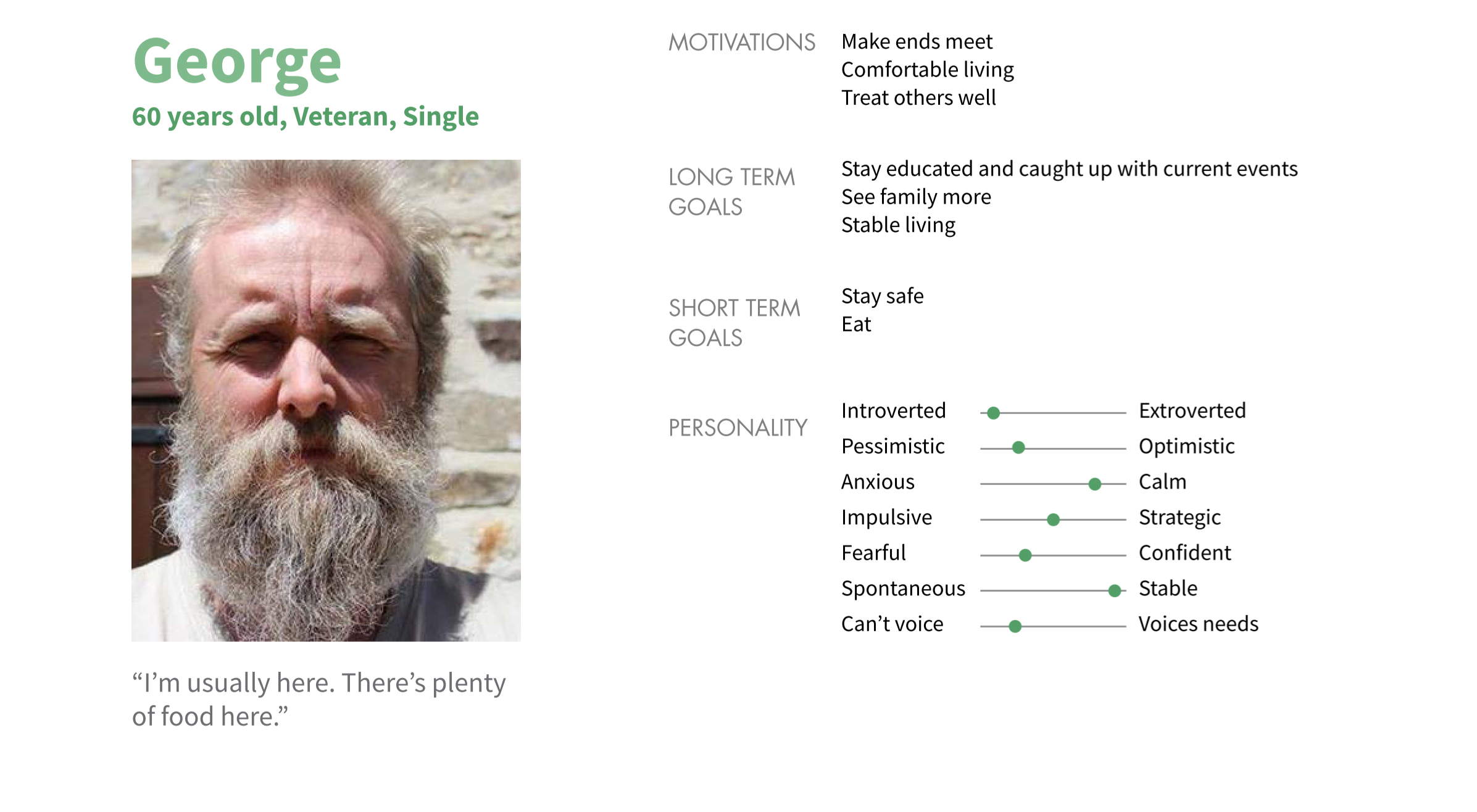 Persona: George
Created George to help represent the general population of Hill District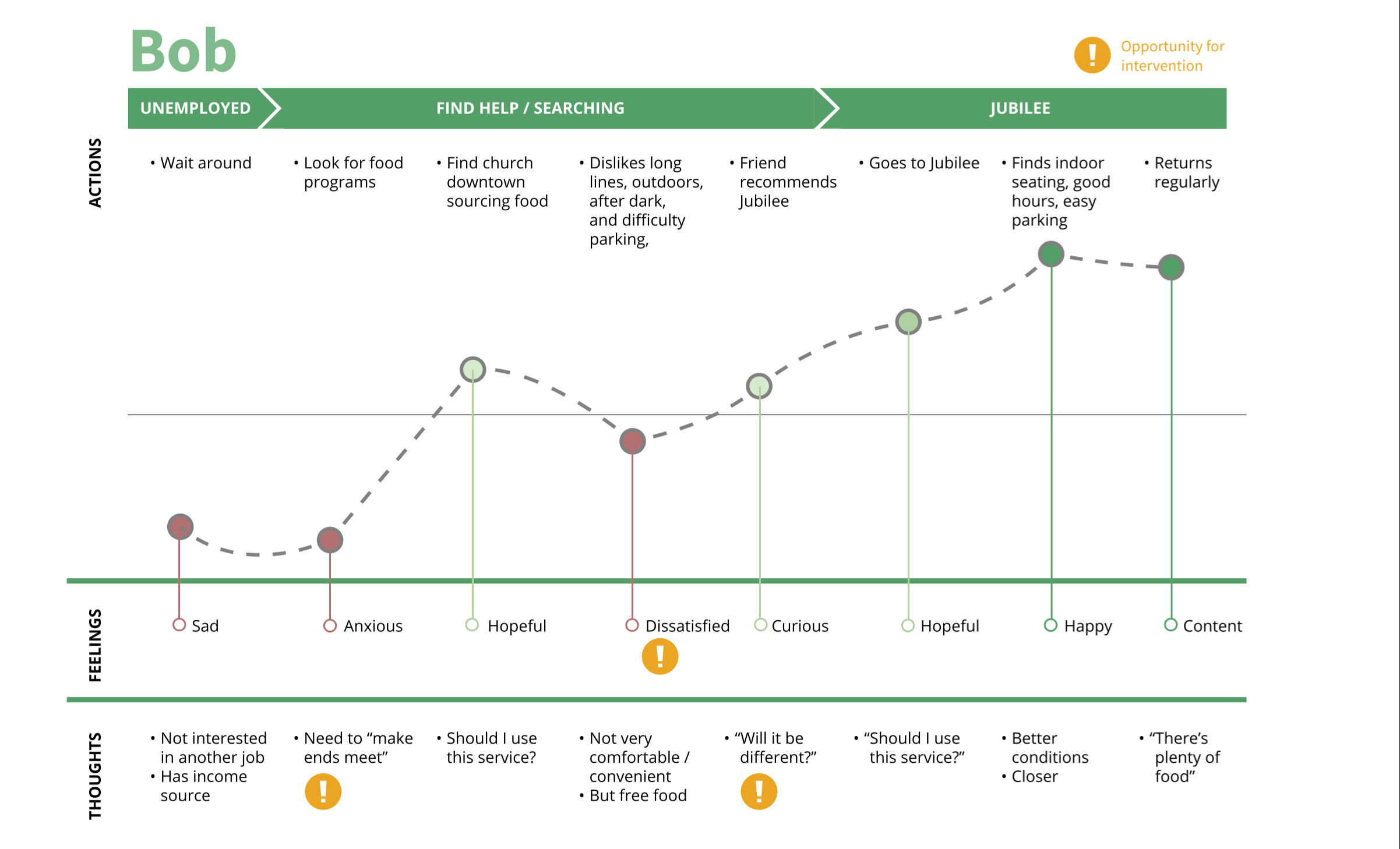 User Journey: Bob
Outlined a user's journey to reach an organization in the Hill District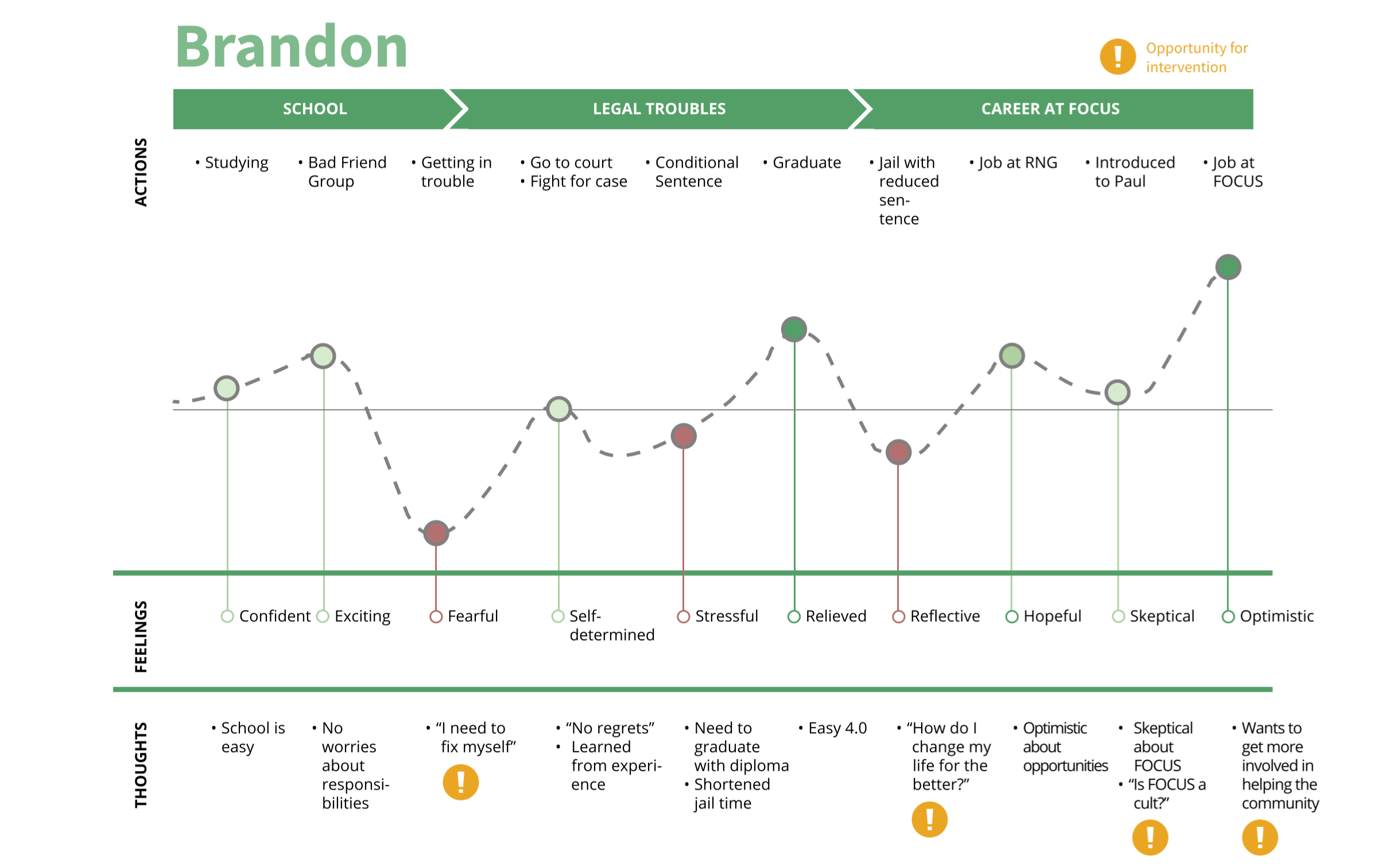 User Journey: Brandon
Outlined a user's journey to reach an organization in the Hill District