Dr. Flame
FEBRURARY - MARCH 2017
Dr. Flame is a social card game aimed to create discussions around microaggressions in everyday context.
See our research report for an in-depth understanding of the project
Read and explored various academic papers that discussed unconscious biases to better understand the current context of the situation, and what strategies are effective in mitigating its effects
Conducted domain research on embedded design in games to draw inspiration from
Designed and developed the game's instructions, interactions, etc., all while taking into consideration the balance between fun and persuasive design
Rapidly prototyped various versions of the game with users, and iterated the game to adapt to the notes from the prototype sessions
Utilized techniques in sociology (e.g. distancing), as well as addressed various topics such as confirmation bias and microaggressions
OVERVIEW
In today's world, unconscious biases persist throughout everyday interactions. A class that I took in Spring 2017 centered around this idea of using embedded design (design where its intentions are embedded to a system, without the user knowing) to help mitigate unconscious biases. The final project was pretty open-ended, but I ended up working on a social card game (think Cards Against Humanity) to help address these indirect biases.
The game itself, Dr. Flame, is a role-playing type of game where the characters that people play start to break social associations. The idea of the game is to create unusual connections between unlikely characters. The players embody these characteristics to break associations between what is good and what is bad.
PROCESS
Brainstorming
We went through a few ideas before settling on this final game of Dr. Flame:
Bias Hazard - social game that involves piecing together various cards to make a scene (similar to how the game Joking Hazard does it)

The cards would dictate some type of bias (e.g. one of the characters starts out by asking the ever-so-common question "where are you from?"
Another card would be able to respond to the bias by correcting or highlighting the absurdity of the prompted bias
After considering various scenarios, we believed it would be too difficult to create a broad enough card deck that took the bias scenarios seriously
Also seemed pretty obvious what the intentions of the game would be after a few rounds

Storyline - storytelling game where players can embody various characteristics or personalities, and then collaboratively make a story using prompt and quote cards

The idea of incorporating unconscious biases to stories became a rather difficult task, however, the main takeaway from this idea was to allow players to embody personalities and characteristics of people who they might not normally associate with
An objective for the game also became difficult to target, and therefore a satisfying ending to the game wasn't very clear to us at the time

Dilemmas Dilemmas - game where cards spark conversation about people's previous experiences, and therefore open up the conversation about personal experiences involving biases

Our prompts for the cards seemed to broad and unstructured to be an effective game. Although the idea of sharing personal experiences seemed very interesting, we could see the game failing to achieve its purpose if the stories deviated away from ones that involved indirect biases
The game has potential to allow people to share experiences with microaggressions or gain perspective about their own privileges/disadvantages, but can also spark little to no conversation due to its open-ended nature of prompts
Dr. Flame
We combined our brainstormed ideas and came up with a game called Dr. Flame in the end. Due to the limited time we had to work on the project, we only had time for one iteration for the game. We started out by rapidly prototyping game pieces using regular cut out pieces of paper and a Sharpie. After playtesting the initial version with various student groups around campus, we decided to iterate on a few aspects of the game. In particular, we made sure to make the game less noticeable in its intentions of mitigating unconscious biases, and more fantasy/storytelling-like to draw in the players' interests. After this iteration, we designed and developed more official cards for the set, and eventually packaged it into a more formal container.
The majority of the project involved figuring out how to design an effective system that worked towards mitigating indirect biases, while also resembling a social party game in which people wouldn't be able to catch onto the game's true intentions. This process involved conducting domain research on the effectiveness of games, as well as academic research of unconscious biases (and sociology in general).
If you're interested in the details of the game, please feel free to take a look at the instructions of the game.
Dr. Flame
Complete set of Dr. Flame
Cover
Box's cover (psst, it's just cardboard under there)
Characters
Examples of characters in the game that the players must embody
Prompts
These cards served as clues / prompts to help stimulate the gameplay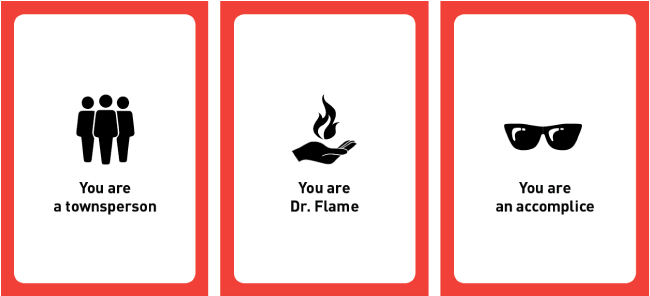 Role
Each player could be either a townsperson (normal), Dr. Flame (the villain), or an accomplice (villain's helper)